Mold Removal Services on Oahu
Mold Removal Services Oahu, Hawaii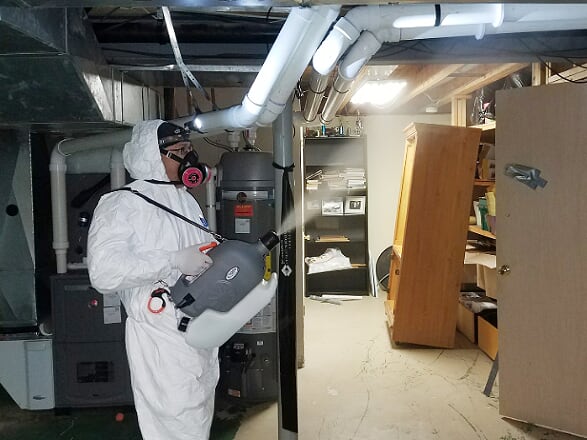 Safe, EPA-approved, odorless treatments can restore your home's air quality and send mold packing!
Professional Mold Removal Services: Cleaning up Oahu Businesses One by One
Oahu Mold Testing & Removal provides efficient and cost-effective treatments against mold, mildew, and dampness. Healthy air means healthier workers, happier clients, and seamless health inspections!
Mold Treatments and Removal for Oahu Homes
Have you noticed you or your children have been sneezing more than usual lately? Are their eyes watery or their skin itchy even if they religiously stay indoors whenever the pollen count is high?
Mold infestations come in many shapes and forms, especially in beautiful Oahu's tropical climate. They are one of the most common culprits of decreased air quality, constant allergies, and unexplained damp or musty smells that don't seem to go away.
Oahu Mold Testing & Removal specializes in offering customized, plant-based blended treatments that target the specific type and strain of mold present in your home. All the products we use are efficient and long-lasting but completely safe for humans and pets alike. You can now get rid of all mold and mildew in your pipes and vents without redoing your entire plumbing!
Mold Removal for Oahu Commercial Properties
Commercial properties and office buildings have higher demands on their time and air quality. After all, nothing scares clients away from a showroom more than an odd musty smell. In addition, the constant use of allergy meds and frequent sick days caused by your employees' mold exposure can decrease their productivity sharply and cost your business thousands of dollars!
Mold infestations can quickly spiral out of control for commercial properties, especially those on shared or leased buildings. HVAC vents, climate control systems, and the blurry limits between common and private areas can make it very hard to identify where the mold keeps coming from – and believe us; it will keep coming.
A professional mold inspection and removal service can locate the hidden nests where spores keep reproducing. Our airborne spray-based treatments are safe and efficient and will blast mold away without having to shut down your business.
Why Call in the Professionals?
Many stores nowadays sell a variety of mold-blasting sprays that promise to make your home smell fresh in a matter of seconds. However, battling mold requires much more than simply wiping out the places where it's visible. The chances are that the musty scents will return shortly, and mold stains will grow back as soon as humidity levels rise again if not dealt with professionally.
Why? The spores that give birth to new mold are still hiding away in HVAC vents, beneath water pipes, or close to your gutter – all damp, warm, and dark places, the kind that they love.
A professional mold inspection and cleaning can identify all the sources where mold is hiding and kill it off at the root. In addition, by tailoring our treatments to the results of our air quality inspections, we can provide you the right concentrations and ingredients that will ensure we can tackle it right from day one. This will prevent regrowth and the arrival of resistant and resilient mold strains.
Where is the Mold Hiding?
Scanning every square inch of your home may take you days, but our experts can find the spore nests in an hour or less.
Here are some areas where our team can detect and remove mold easily, using EPA-approved safe sprays only:
Attic: a great place to dig its claws in your old linen
Basement: where it has the chance to spread its scent all around the house
Kitchen sink and cabinets: nothing good can come out of contaminating your water or food supply
Bathrooms: thanks to our love for hot showers, bathrooms are their favorite playground
Rain gutters: hidden and often out of the way, they provide a constant stream of water and organic materials to feed mold and fungus
A/C systems: out of sight, out of mind, right? A/C ducts are common culprits of returning mold
Leave the digging for the experts and give us a call!
GET A GUARANTEED CALL BACK
FROM THE OWNER
Affordable & Reputable Mold Removal Services