OAHU MOLD TESTING & REMOVAL
INSPECTION | TESTING | REMOVAL | REMEDIATION
AFFORDABLE & COMMON SENSE MOLD SOLUTIONS
Oahu Mold Testing & Removal provides A to Z mold remediation services in Honolulu and Oahu.  We offer timely mold testing services on Oahu to determine what type of mold is present in the subject area.  We are a solutions based company specializing in treating your mold issues with affordable solutions.  
Our objective is simple: 1) remove and remediate current mold issues, 2) fix the conditions causing the mold issues so they do not return.  
Our mold removal and remediation services on Oahu range from residential areas all the way up to highly contaminated commercial buildings with complex ventilation systems.  We are a full-service mold removal company on Oahu.
Get Scheduled For A FREE Quote In Minutes Not Hours!
We Will Challenge Any Licensed Competitor's Written Price.
Aloha,
I'm Chris and I lead a team of trained mold professionals and technicians dedicated to mold remediation services.
I'm a happy Oahu resident that makes an honest living by eliminating and preventing many spectra of mold issues.  Years of experience allows me to accurately determine why the mold is growing, and more importantly, how to get rid of the mold and prevent it from coming back.
But enough about me, you need a mold remediation professional.
Call if you need professional mold remediation services at your residential or commercial location for anything involving mold removal on Oahu, mold testing, mold inspections, mold remediation, mildew treatments, mold treatments, black mold removal, mold removal companies on Oahu, mold testing, mold testing companies on Oahu….you get the point here. Our crews can handle anything related to mold remediation.
We're guilty of excellent customer service, honesty, and competitive pricing.  We provide island-wide mold removal services for residential and commercial establishments.
Call for a free quote or if you have a question, we'd be happy to help you and tell you what we know.
GET A GUARANTEED CALL BACK      FROM THE OWNER
We offer customized and safe treatments to all our customers. Get it inspected by a profesisonal.
Our professional team can test and diagnose the type of mold present in your space the right way.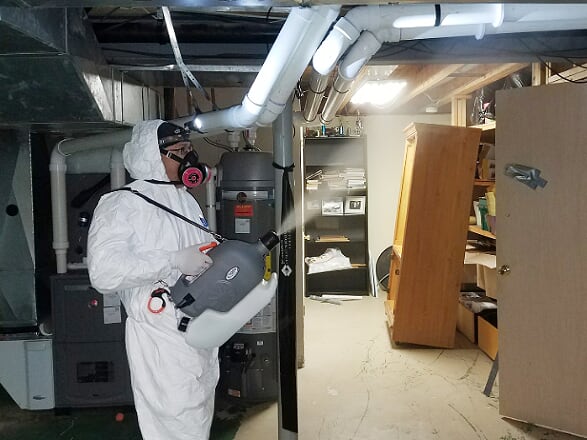 We can restore your home's air quality using our treatments against mold, mildew and dampness. Schedule today!
Tell Us About Your Mold Situation & Concerns
Let's Look At Your Mold Situation Together For The Best Results
Our Full Faith Quotes Are Always Free & Honored For 30 Days
Respiratory allergies, sneezing, odd smells, and itchy eyes are just some of the most visible symptoms of hidden moldy patches. Whether they have invaded the visible parts of your bathroom or are still hiding in the vents, getting rid of them will require thorough, high-tech solutions. Learn how we can bring back fresh air into your home!
Can you think of anything that improves if you add the word "moldy" to it? The chances are, you can't. Mold is one of those things that is universally regarded as unpleasant and unhealthy. Mold, fungi, and spores are omnipresent in the warm, tropical Oahu, Hawaii climate, but that does not mean that they have to be given free rein of your home.
Oahu Mold Testing and Removal is a company with a mission: to detect, combat, and prevent the presence of mold in all homes and offices where we are summoned. We offer high-tech inspections, a precise diagnosis, and targeted treatments that allow us to fight mold quickly and with minimal side effects for your family, employees, and pets. We specialize in eco-friendly, sustainable mold treatments to improve air quality.
All of our treatments are safe and healthy. Our team uses EPA-approved, proprietary mold-blasting formulas to ensure no collateral damage. Our enemy is mold, not your skin and lungs.
Most of the time, just seeing a black patch on your bathroom says little. Our biological inspection team will take a sample and tell us exactly what's growing and where it's coming from.
All samples we collect are tested, cultured, and assessed in a lab. Thanks to their hard and precise work, we can tell you exactly what's invading your home in less than 48 hours.
Our biological profiles allow us to offer you highly-customized and potent mold removal treatments that are safe for Oahu home and office alike. Our aim is to keep solutions non-invasive and long-lasting.
Residential Services: Safe and Satisfactory Mold Removal Solutions
When we come into your home, Oahu Mold Testing and Removal keeps things clear: your family's health is on the line. Learn what makes us the top residential provider of mold removal services in Oahu!
Fighting Mold in your Oahu Home
Not too long ago, most homemakers would have been quick to point out that mold is just part of living in Oahu; year-round warm weather and lush rains provide a beautiful environment, but there is a price to pay.
Nowadays, we know everything that mold can do to your home's pipes, freshness, and air quality. Mold and mildew are not just unpleasant to look at, but they also have a real impact on your health. However, just like mold itself, the constant sneezing and allergy breakouts have a way to creep up slowly until they become your new normal. Bleach-based washes can halt the problem temporarily – but it always comes back.
Does it have to be this way?
Oahu Mold Testing and removal offers a wide range of customized, safe and environmentally friendly treatments to banish mold and damp odors from houses and apartments alike.
Improving the Air Quality in Your Home is Easy Here's How We Do It
Mold treatments and removal are a methodical process. However, just because we always ensure to cross every T, doesn't mean our offer is rigid. In fact, it's our thorough method that allows us to choose among many possible treatment products, with the certainty that we will get it right the first time.
Some of our most popular services include:
Mold inspections: The site visit will be short and sweet. Our trained inspectors know where to look and can get a sample in 30 minutes or less.
Mold testing: The lab work may take a bit longer, but we'll be out of your hair! In 48 hours or less, we'll perform a thorough study to identify the strain that's invading your home.
Mold removal: Mold and fungi are highly adaptive; that's exactly why they are EVERYWHERE. We'll use a targeted and customized EPA-registered treatment to remove them from your property.
Black mold removal: There's mold, there's dampness, and then there's the dreaded Stachybotrys chart arum or toxic black mold. Quick to cause symptoms and resilient to most treatment, black mold requires all hands on deck.
Mildew removal: it's not just making your curtains smell funny. Mildew spots are often the hidden farm where mold spores hide in between treatments. We can banish them too.
Commercial Services: Keep Your Clients and Colleagues Mold-Free
Sweat, tears, and lots of work go into building and maintaining your office, store or hotel, so you can't let it get invaded by mold!
Entrepreneurs and business owners are the beating heart of our island and know better than everybody else the importance of keeping customers and employees happy and healthy. What might be easier for them to ignore is the ultimate cause of the increased sick days and wrinkled noses around them.
When was the last time your commercial building got tested for mold?
Mold and mildew can cause your entire location to acquire a damp, musty smell that doesn't go away despite the housekeeping team's best efforts. It can make your clients and colleagues uncomfortable and slowly hinder your productivity and reputation. Not to mention, it tends to look pretty bad on health inspections!
Controlling and fighting mold is an investment!
Whether you are managing an office, running a hotel, or own a brick and mortar store, as one of our commercial clients, we believe in helping your bottom line.
This is what we are trying to do by providing comprehensive mold removal and odor control services all around Oahu; we want to turn your business into a more hospitable one, where everyone can work better and party harder. Since we know closed doors are not making any money for you, we specialize in flexible schedules, non-invasive inspections, and reliable cleanup sessions. After all, the show must go on even if the mold is not yet gone.
A rush of fresh air inside your business will bring in more money and more satisfied customers. We aim to build long-lasting relationships with our commercial clients and are as invested in your success as we are in fighting mold. This is why we offer a range of non-toxic, environmentally friendly mold treatments that will keep mildew and fungi gone long after we are. Our maintenance schedules are designed to ensure we are providing you with the best bang for your buck, and that you never have to delay opening times just to hide that moldy stain.
Mold control: Mold spores may be all around Oahu, but there are many ways we can ensure that they don't nest inside your vents. Our mold inhibitors will save you quite a few sneezes in the future.
Odor control: Hospitality and a welcoming ambiance are key components for any business in Oahu. The damp smells and unpleasant odors caused by mold are often noticed by newcomers first. Get rid of them!
Buildings and businesses of any size: Business types are as varied as the buildings housing them. Whether you are running a large independent building, have your own space, or share an office building with other companies, we can adapt our services to suit your architecture and needs. Shared vents, elevator shafts, and expansive gardens can all be treated.
Certified inspections and audits: Mold and mildew rarely look good during a client's site inspection or when the Health Board is visiting. Just like you would dress to impress, we can go through your corners to ensure your facility is mold-free when you need it to be.
Personalized, Efficient, and Friendly: Why Are We the Best Mold Fighters on Oahu?
Mold is highly adaptive and tremendously stubborn. Learn more about the secret weapons we can place at your disposal.
The most efficient mold removal in Oahu was not created in a day.
At Oahu Mold Testing and Removal, we have been perfecting our tactics and polishing our weapons for over a decade. This is how we have developed stronger targeted options than those offered by store-bought cleaners and simple bleach cleansers.
Our mold and mildew cleaning methods combine the accuracy of a lab report with a huge love for the environment and an unshakable commitment to our clients' safety. Our mold inspections allow us to narrow down the exact strain affecting your home. Hundreds of hours of practice and training have taught us what works!
What does that mean for YOUR home?
We know where mold lives and can find the hidden spots where the spores hide.
Our products are all EPA-approved and thoroughly tested. We will attack the mold, not your pets.
Customized blends and lab profiles mean we can save you time: no more trying "what works" while on the clock.
Mold is alive, and every time it survives the wrong treatment, it grows stronger – but we won't let that happen.
Our team is thoroughly insured and trained in bio-testing techniques, health, and safety.
We stand by our work. From follow-up inspections to audit certificates, we'll sign our name by your mold-free home.
Save time, money, and stress when fighting mold and mildew!
Oahu Mold Testing and Removal is much more than just a mold cleaning service; we offer lab-grade hygiene, cleaner airways, improved air quality, and an easy customer experience.
Give us a call at 808-745-1182 to book an inspection right away. Our agents are ready to help you find the most efficient way to collect a sample and test the odd grayish and black stains creeping up around your home or office. We will create a customized "mold kryptonite" that will target the right species specifically, without polluting the environment or risking your family's health or your garden's beauty.
We have combined the science and the art of customer service to provide long-lasting solutions to banish mold, black mold, and mildew growths alike. Cleaner lungs and fresher scents are awaiting you on the other side of the phone.
Black Mold: What is this Plague Really Doing Around Your Home?
No species of mold or mildew is particularly a joy to have around. However, the effects of Stachybotrys chartarum or black mold can make normal mildew feel like a bakery in comparison.
Do you have black mold at home?
The good news first: Stachybotrys chartarum is usually pretty easy to recognize with a simple glance. Anyone with just a couple of years of experience can point it out without the need for a fancy lab report.
The bad news? If it has grown so much that you can see it as plain sight, you have probably let it grow too much already.
After all, it is the nastiest looking and fastest growing of all home molds. It loves to make its home in cellulose-rich surfaces, such as wooden walls, behind furniture, gypsum, or old wallpaper.
When reproducing, toxic black mold creates mycotoxins, tiny toxic particles that have been linked to varied health issues, from severe respiratory allergies to hives, asthma attacks, headaches, and even stomach illnesses. When your family or office all begin to fall ill, there is often little to do but to call for an emergency service and relocate somewhere drier for a few days.
However, Stachybrotis spores are often hiding around mildew growths for a long time before triggering such radical invasions, and a timely inspection can halt the process before it gets to that point. If caught early, Oahu Mold Testing and Removal can deploy its specialist team of cleaners and purify the environment in less than 12 hours, with 120 days of guaranteed results.
There is no need to book the entire family with the allergy doctor or risk your guests' satisfaction on a hunch. Simply call us for an inspection today and find out exactly what is growing behind your wallpaper.
Mold-free office buildings and commercial facilities without shutting down? Here's how!
Maintenance tasks are no business owners' favorite time of the year, especially if they will require you to shut down for a few days. We can get your Oahu business mold-free without keeping your clients waiting.
Commercial and Corporate Services by Oahu Mold Testing and Removal
Fighting mold in an office or business facility is not just about wearing our fancier clothes and white gloves for the site visit – not that we are ever underdressed! It means looking at larger spaces, shared facilities, and ensuring we stay within budget and on the clock.
In addition, depending on the type of business, you may also need something much more thorough than a quick swipe and clean. Hotels and restaurants often need not just good air quality and mold-free spaces but the certificate to go along with it!
Do you work with food or need to protect your permits? From public washrooms to leaky pipes and trash chutes, we can reach and sanitize the hard-to-reach, hidden spots where mold could be hiding.
Do you own a franchise and need to ensure your name is projecting the right standard? Our certified audits can provide you an accurate assessment of the situation in addition to an effective solution. Your reputation is on the line!
Do you rent out a large, shared office building? Need to coordinate 10 site inspections at once? Then, you need someone who only needs to check the shared HVAC vents once. Oahu Mold Testing and Removal knows its way around a tight schedule. We will minimize the downtime for both the inspection and treatment.
Do you have a client visit? Are you flipping a property? Few things put off prospective buyers as much as unexplained odors or surprise stains. Our team can provide you the most cost-effective way to ensure everything is ready for the big day.
GET A GUARANTEED CALL BACK
FROM THE OWNER
Affordable & Reputable Mold Removal Services
GET A GUARANTEED CALL BACK      FROM THE OWNER